Disaster Recovery as a Service (DRaaS-Z)
Powered by

DRaaS-Z is a Disaster Recovery solution, based on Zerto, used for replication of virtual machines from customer's on-premise infrastructure to a dedicated virtual data center. The service allows RPO in seconds and minutes rather than hours and days. All segments of the solution can be managed by the customer, providing full control and protection insight, i.e. RPO. The main advantages of DRaaS-Z are:

Reduced Costs
With DRaaS-Z the need for investment and operation of a dedicated data center for Disaster Recovery, as well as managing a complex solution for business continuity, is avoided. Customers of the service pay for the amount of replicated data, except in case of failover when they are also charged for the used resources.

Continuous Replication
Instead of replication with snapshots, DRaaS-Z continuously replicates all the information that should be written on the customer's storage system to the replicated location at the operator. This allows nearly real-time replication.
Hardware Agnostic
The solution is completely independent of the customer's and operator's hardware and supports all types of storage systems, including Storage Area Network (SAN) and Network-Attached Storage (NAS); and virtual disks as Raw Device Mapping (RDM), VMware File System (VMFS) and Virtual Hard Disk (VHD).
Process Automation
All processes which are provided to the customer, such as failover, failback, and testing, are automated and activated with a single click. Therefore, establishing business continuity is drastically simplified and accelerated.
This solution is available for virtual environments based on VMware vSphere and Microsoft Hyper-V.
There are many benefits of using the DRaaS-Z service, such as:
 Support mission-critical applications – integration with VSS for consistent replication between system with applications.

 Reducing the cost and complexity of IT operations.

 Continuous replication up to 5 days, with the possibility to save daily, weekly and monthly samples in the form of a backup.

 Security – Data replication over Site to Site IPSec VPN between the custumer's infrastructure and vDC.

 Support for all the advanced features of VMware and Microsoft, such as vMotion and Live Migration.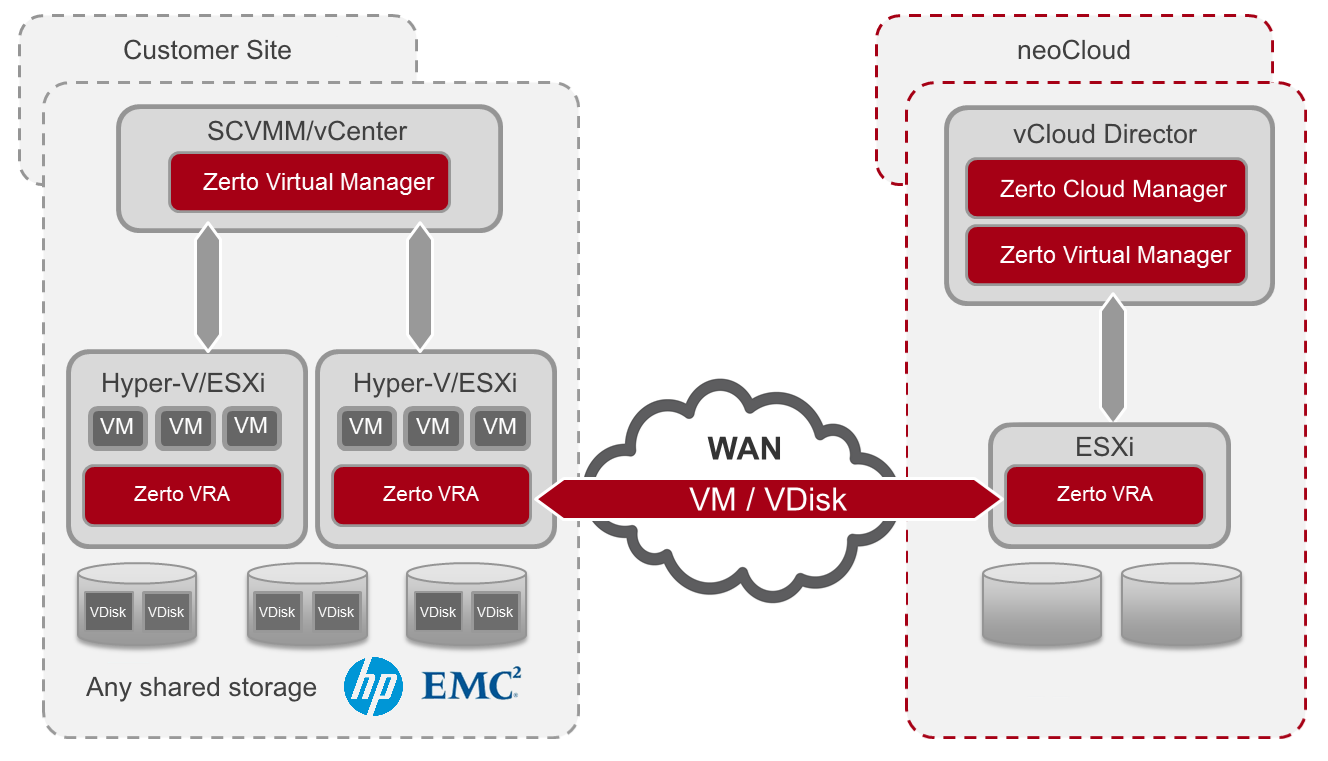 Contact
Want to order DRaaS-Z subscription?
Send a request and soon You will be contacted by our sales team.
Pricelist
Technical Description
Gallery
Documents
Prices for the DRaaS-Z service
| | Unit | Monthly Price |
| --- | --- | --- |
| Replicated Virtual Machine | 1 | 70 € |
| Replicated data* (GB) | 10 | 1.34 € |
Processor and memory resources are included in the price for usage up to 5 days per month for testing the DR scenario. Also included is the IPSec VPN between the source location for replication and the virtual data center.
In a failover scenario, the resources Virtual CPU and Virtual RAM are charged according to the pricelist for the VDC service.
*The amount of replicated data is the quantity of data within the replicated virtual machine where additional 10% are added for a journal.
All prices include a 5% VAT and are valid for one year contract.
neoCloud DRaaS-Z service consists of the following components in the client's infrastructure:
Virtual Replication Appliance (VRA) is installed on all hosts in the client's virtual infrastructure and performs replication of virtual machines;
Zerto Virtual Manager software, which is used for management and configuration of replication and is associated with the corresponding virtual device in the virtual data center;
vCenter Server/SCVMM supplement for easier managing and monitoring of replication.
Components of the service in neoCloud are:
Virtual data center – isolated environment for the user, where virtual machines are replicated (neoCloud VDC service), which is composed of resources (CPU, RAM, HDD), one or more private networks, dedicated firewall / router and other components;
Virtual appliance Zerto Cloud Connector in VDC, that performs binding between the customer's ZVM and operator's ZVM;
Public portal for management and monitoring of replication and automation of various processes.
neoCloud DRaaS-Z is a service based on Zerto Virtual Replication Solution for Cloud providers, which enables direct integration of vSphere/Hyper-V and vCloud, so that customers can protect their virtual environments in the cloud. The solution is integrated on a hypervisor level, using VRA (Virtual Replication Appliance) on both sides, at the user and at the provider, which provides nearly zero-time replication. Replication does not work with snapshots. Therefore, it is continuous and without any impact on the performance of the virtual machines, regardless of their size or their load. This solution enables replication from and to any file system.

Customers' on-premise virtual machines replicate at the customer's VDC and are hosted in the neoCloud VDC service, which provides a single portal for managing all tasks, whether they are for DR or they are in the cloud.

Zerto Self-Service Portal is published by neoCloud and can be used by the customer for configuring and controlling replication and tasks, as well as monitoring the replication and current RPO time. The customer can also install the vCenter Server plugin for managing and monitoring the replicated tasks.

The service provides point-in-time recovery up to 7 days, with the ability to save on a daily, weekly and monthly basis as a backup. This feature allows neoCloud DRaaS-Z service to serve as a backup infrastructure because failback on the customer's infrastructure is part of the solution.

The possibility of integration with Microsoft VSS ensures consistency of mission-critical applications, such as SQL Server, Exchange Server, Oracle and any other applications that have integration with VSS.

DRaaS-Z provides automatic testing, which simulates DR in the isolated environment (no impact on the on-premise infrastructure) and confirms the success of the process. From this it can generate reports for compliance and standardization, according to the required objectives.

In case of unforeseen disasters, shifting to a new location is a task that is done with one click, and it automates the process of booting VMs or vApps, configures networks and performs various other configuration tasks. This also applies to the process of restoring the existing location, whether it is new or already existing.

neoCloud DRaaS-Z can only be used for replication of virtual machines in VMware or Microsoft virtual environments or private cloud environments, which have to have the appropriate software to manage the virtual environment – vCenter Server* and SCVMM**.

* Minimum supported version is VMware vSphere 4.0 Update 1.
** Minimum supported version is Microsoft System Center 2012 R2 with VMM.
Datasheets