BRS – Backup and Replication Services
Powered by

Everyone needs a place to store their backups off site. But many organizations don't have a second site, and rotating tapes or removable media off site is cumbersome. Increasingly, customers are turning to the cloud as a better alternative. Backup and Replication Services (BRS) is a cloud professional data protection and recovery solution, whether the customer needs Backup, Disaster Recovery or both.

CLOUD CONNECT FOR BACKUP
The 3-2-1 Rule states that you need to keep three copies of your data, stored on two types of media, with one copy being off site. Getting backups off site can be challenging due to limited bandwidth, exploding data volumes and a lack of resources required to build or maintain a true offsite backup repository.

Veeam Cloud Connect makes it easy to get your backups off site to a hosted backup repository (called a cloud repository) without the cost and complexity of managing a second site. Veeam Cloud Connect is:

Seamless

Use your cloud repository like a local backup repository. Veeam Cloud Connect integrates directly into the Veeam backup console. No additional download or Veeam licensing required.




Efficient

Leverages forever-incremental backups, in-cloud synthetic fulls, Built-in WAN Acceleration* and more to minimize data transfer while maximizing restore points. Get your backups off site quickly and easily without adding bandwidth.

Secure

Rest easy by encrypting your backup at source, in flight and at rest, without negatively impacting data transfer to the cloud (thanks to content-aware compression and WAN Acceleration). Cloud Connect's multi-tenant capabilities also ensure that your data is as safe and confidential as it would be in your own dedicated offsite repository.

Simple Recovery

Cloud Connect also makes it easy to recover from cloud backups instantly, without downloading backup files. Simply browse your backups online and restore exactly what you need, whether that's an entire VM or an individual email or spreadsheet.

How it works
Veeam Cloud Connect integrates hosted backup repositories (called cloud repositories) directly into the Veeam backup console:
Sign up with neoCloud
Simply click "Add Service Provider" and enter the provided credentials
The cloud repositories appear in the backup infrastructure
That's it! There's no VPN, no separate console, and cloud repositories work like other backup repositories – except they're available even if the primary backup or data center is lost.
CLOUD CONNECT FOR REPLICATION**
Replicate your virtual machines (VMs) to the cloud without the cost and complexity of managing a second site. With DRaaS for Veeam, you can ensure your business stays in business after a disaster with:
Fast, flexible failover
Easily switch production to standby VMs from a secure, mobile-friendly portal or your Veeam console. Fail over specific VMs or an entire site with 1-click failover orchestration. Maintain failover plans in the cloud alongside standby VMs for quick recovery from even large-scale outages.
Recovery assurance
Test failover of an entire site or select VMs without affecting production. Veeam also makes it easy to periodically fail over and run production at your DR site (considered a best practice by many).
Streamlined failback
Switch production back to your restored data center – or to an entirely new data center (out-of-place restore) – with zero data loss and minimal disruption to users. Minimize network traffic by transferring just the deltas between VM images in preparation for failback.
Seamless integration
Replication to the cloud is fully integrated into Veeam user interfaces and workflows. Just point your replication jobs at a cloud host, and fail over and back as with any other replication target.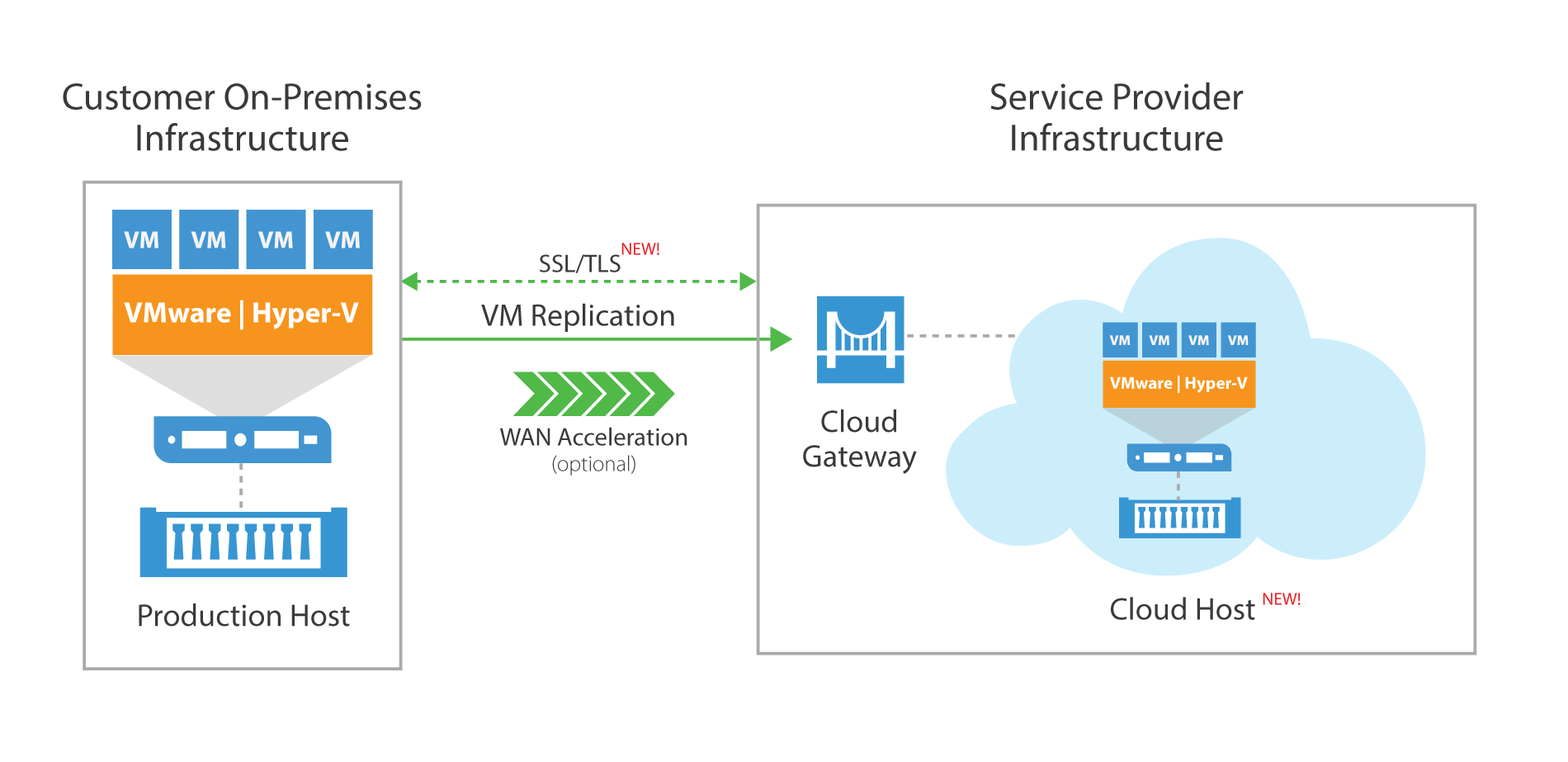 CLOUD CONNECT FOR AGENTS***
For Microsoft Windows and Linux
Delivering Availability for physical and cloud-based servers, workstations and remote workforces is a challenge for any organization. Due to various factors, including complex hardware configurations and regulatory compliance requirements, some physical servers and workstations cannot be virtualized. Everyday occurrences such as lapses in connectivity, hardware failures, file corruption – even ransomware or theft – can also leave an organization's data at risk.
Veeam Agents will offer the possibility to back up directly to a Veeam Cloud Connect repository.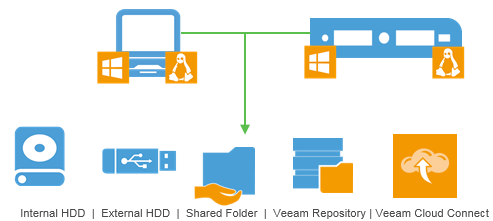 * In Veeam Backup and Replication Enterprise and Enterprise Plus editions
** Available by the end of 2017
*** Windows Agent available soon, Linux Agent during 2017
Contact
Want to try or buy BRS?
Send a request and soon You will be contacted by our sales team.
For more information contact us directly at:
Tel: +389 (0)2 55 11 222
Email: sales@neocloud.mk
Contact
Datasheets