Backup vDC
Protected by

Backup vDC is an addition to the vDC (Virtual Data Center) offering in the area of professional backup. With this service, the customers get a professional backup solution for the rented virtual infrastructure in neoCloud. The solution is protected by Veeam®, the most advanced backup solution for virtual environments. The main characteristics of the solution are:
Simplicity
Without the use of backup agents, all backups are application consistent.
Visibility
Complete visibility in backup jobs and ability for self-service restore operations using a web portal. Restore operations include whole VM or file level restore.
Efficiency
Fast backup without any impact on the infrastructure which is backed up.
Transparency
Charged on virtual systems and amount of data protected, avoiding hidden costs and difficult calculations.
The main advantages and benefits of this service are:
Duplication of backup data in two locations for greater data protection.
Data security with a secure and redundant environment, vendor guarantee for data integrity and well as encryption possibility.
Possibility to backup data to tape (LTO6).
Daily incremental backup which is treated as a full backup.
Aupported applications: Microsoft Active Directory, Microsoft Exchange, Microsoft SharePoint, Microsoft SQL, Oracle Database.
Ability to restore items (file, object, message, table, etc.)*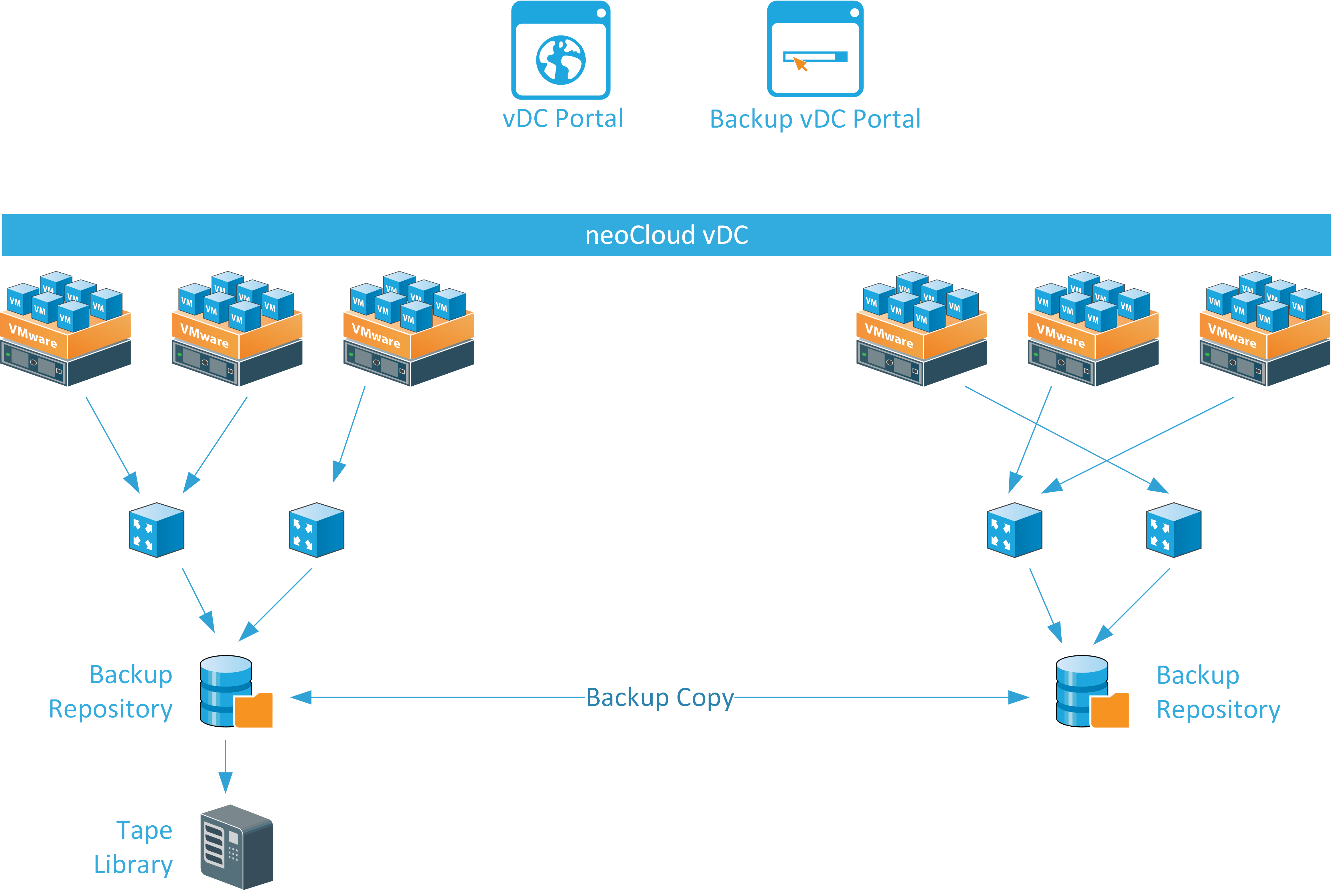 *Regarding granular level restore, look at the technical description tab for detailed information.

Контакт
Want to order Backup for vDC service?
Send a request and soon You will be contacted by our sales team.
Pricelist
Technical Description
Gallery
Documents
Backup vDC pricelist
Compare the Backup vDC subscription are choose yours
Standard
Advanced
Number of virtual machines

Standard

1

Advanced

1
Size of data protected

Standard

100GB

Advanced

100GB
14 daily backups

Standard

included

Advanced

included
GFS backup(4 weekly, 3 monthly, 2 quarterly and yearly backups)

Standard

/

Advanced

included
Application level backup

Standard

included

Advanced

included
Monthly subscription from

Standard

16 €

Advanced

24 €
| Additional resources and services | Unit | Price |
| --- | --- | --- |
| Additional virtual machine* | 1 VM | 11.9 € / monthly |
| Additional protected data for Standard subscription | 100GB | 6.4 € / monthly |
| Additional protected data for Advanced subscription | 100GB | 12.9 € / monthly |
| Backup to tape** | 2.5TB | 48.5 € / monthly |
| Configuration of backup policy | | Free of charge |
| Restore via portal (self-service) | | Free of charge |
| Restore by neoCloud Support | | 7.3 € |
| Application level restore | | 10.5 € |
*To backup more virtual machines with capacity smaller then or equal to the chosen subscription, a sufficient number of virtual machines need to be purchased.
**For more information regarding backup to tape, look at the technical description tab for detailed information.

Due to drastic changes in backup and restore operations in the upcoming version of Veeam's software, the technical description has not been published yet.
In the meantime, if you need detailed information please contact us.
Veeam is a registered trademark of Veeam Software.